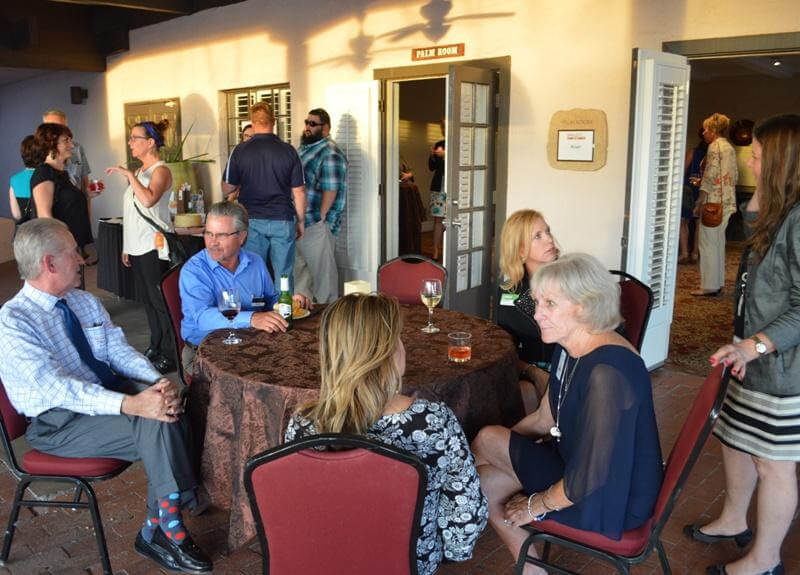 31 Oct

Thanks to new, renewing
* Public Policy

with

Jim DeGrood and Mindy Blake of RTA,

8:30 a.m.

Thursday

.

A crowd of 70 enjoyed great food, drink and network development

on Thursday

both inside and outside at Chamber member The Westward Look Wyndham Grand Resort and Spa, Ina just east of Oracle in the Catalina Foothills. New general manager Andrew Stegen welcomed the crowd. See more details, below.

Photo by Greg Spadinger
Pima honors vets

Thursday, 11/10

   Chamber Copper partner

Pima Community College's Downtown Campus

hosts its fifth annual

Veterans Day Celebration

on

Thursday, Nov. 10

, from

11 a.m. to 1:30 p.m.

  The day's program includes speakers, recognition of local businesses that support veterans, activities, entertainment and food. It is free, with sponsorship from PCC, the Small Business Administration and the Small Business Development Center.

  The Downtown Campus is located at 1255 N. Stone, with the day's events in the Free Speech Area.

 

Ace Casino needs

casino dealers

  Chamber member Ace Casino Equipment is hiring casino dealers for part-time mostly evening work for special events and social functions this holiday season, and beyond.

  The ideal candidate must be at least 21 years of age, clean in appearance, with an outgoing, friendly personality and dependable transportation. Positions are available for black jack, craps, roulette and poker. Training starts soon.

   Contact

Randy

at

here

to schedule an interview.

 

Hughes FCU earns

regional community

service award

  Chamber Copper partner Hughes Federal Credit Unionreceived first place in the 2016 Dora Maxwell Social Responsibility Community Service Award. The award, sponsored by the Mountain West Credit Union Association and the Credit Union National Association, is given to a credit union for its outstanding commitment to community service projects.

  "Hughes Federal Credit Union has a strong commitment to the communities we serve. As a not-for-profit, locally-owned financial cooperative, our focus is on people; not profit," says President/General Manager Robert J. Swick. "Every year we help numerous organizations through our Hughes Helps program with financial and volunteer support, youth and adult financial education and much more. Since January 2015, we have provided more than$125,000 in support to more than 100 local organizations."

  Established in 1952, Hughes is a local financial cooperative owned by its 103,000 members. For more information visit 

HughesFCU.org

 or call

520-794-8341

.

Blair Charity Group

   A

Nov. 11

golf event at Chamber member

Golf Club at Vistoso

is intended to benefit

The Arizona Basketball Academy

, the signature program of

The Blair Charity Group

operated by UA basketball standout Joseph Blair.

  The

Who's Your Caddy Scramble

has openings for players, foursomes and sponsors. Registration opens at

6:30 a.m.

, with a shotgun start at

8:30 a.m.

Participants have their greens fees, continental breakfast and lunch, golf shirt and event gifts as part of the package.

  Through The Arizona Basketball Academy, Joseph Blair and the Blair Charity Group have provided access to world-class basketball camps and clinics for thousands of underserved youth in Arizona. All proceeds from the Who's Your Caddy Scramble benefit the Academy, operating for 16 years.

our latest Oro Valleyeconomic development update

 

Alex Demeroutis
Vice President / Events Director


Dave Perry
President & CEO

Our Board
of Directors

Chair 

El Ndoye
National Bank of Arizona

Chair elect

Toni Dorsey

AAA Arizona 

Secretary

Greg Durnan

Acacia IT 

Treasurer

Ghee Alexander 

Hilton El Conquistador Golf & Tennis Resort

Past chair

Alan Dankwerth

Market Considerations

Members

Cathy Workman

Workman Insurance and Investments

 

Kay Williams

Oro Valley Veterans and First Responders Living Memorial 


Michelle Armstrong
Tohono Chul Park


Nancy Boyle

Splendido at Rancho Vistoso

 

Jeff Artzi 

Vistoso Automotive

Jeff Saunders 

America's Mattress

Maurene Paloshek 

Northwest Healthcare / Oro ValleyHospital

Peter Minot 

Southwest Solutions

Mark Mitchell

Quick, Mitchell & Maish, PLLC

Bruce Baca

Pima Federal Credit Union

Cindy Webb Hanson 

BMO Harris Bank


Anne-Marie Braswell
Golder Ranch Fire District

 

Ex-officio

Amanda Jacobs

Town of Oro Valley

Mayor's SOTT

speech online

  In case you missed it,

Oro

Valley

's State of the Town Address

, given by

Mayor Satish I. Hiremath

on

Oct. 20

, is now available online.

  In addition to sharing some of the Town's exciting achievements and highlights, Mayor Hiremath discusses his personal philosophy on setting and reaching goals as a community. His message uncovers the importance of understanding not only how we are going to achieve those goals, but – more importantly – why we are working toward those goals. The answer to the question "Why?" is applicable to any person at any age, whether you're a business owner or busy parent.

  

Oro

Valley

's Annual State of the Town Address

is hosted by the

Greater

Oro

Valley

Chamber of Commerce

and was held at the

Hilton El Conquistador Golf & Tennis Resort

.

  Special thanks to our renewing Diamond partner,

Roche Tissue Diagnostics

, known locally as

Ventana Medical Systems, Inc

. Roche is

Oro

Valley

's largest employer, and Southern Arizona's bioscience leader.

  We appreciate your terrific commitment.

  One of our most valued partners, The

Hilton Tucson El Conquistador Golf & Tennis Resort,

has renewed its Gold-level partnership with our Chamber. We couldn't do what we do without The Hilton!

Thank you, all!


  Casa de la Luz Hospicesupports our Chamber in so many ways – hosting our board meetings at no charge, constantly sharing good words about our Chamber, and through its financial support. Casa de la Luz Hospice has renewed its Copper-level partnership with our Chamber. Thank you, all at Casa!

Welcome to our new September members 

  New members joining the Greater

Oro

Valley

Chamber of Commerce in September are

Kneaders Bakery, John Daniels CPA, Vicki L. Cox and Associates, Centre Stage Dance Studio, West Press, Kumon Math & Reading Center of

Oro

Valley

, AUV Flight Services.

  Welcome aboard!

Thanks to September
renewing members

   Renewing members of our Chamber in September are

Adair Funeral Homes, Class Commercial Furnishings and Interiors, Northwest Exterminating, Heartfelt Workforce

/ Christine Hazen-Molina,

Desert Wind Healing Arts

  / Deb Kortyna; 

Western National Parks Association, La Posada Lodge & Casitas; Century Theatres /

Oro

Valley

Marketplace, Come Alive Health, The Forum at Tucson

,

One AZ Credit Union, Film Creations.

  Thanks for your ongoing support!

  Once again, Chamber member the

Westward Look Wyndham Grand Resort & Spa

hosted a terrific mixer for your Chamber

Thursday

evening.

  Apple pie punch, terrific food to include sliders, meats, cheeses and caramel apple wedges dipped in confections, kept the audience of more than 60 invigorated.

  Andrew Stegen, the new general manager at the Ina Road property, talked about the resort's history of more than 100 years. John Wayne stayed at the classic resort when he was filming at Old Tucson. The Look has outstanding wellness and tennis offerings, a chef's garden, a labyrinth, holiday parties and, soon, 7-day-a-week dining at its signature restaurant, Gold.

  Copper partner Casa de la Luz Hospice was a co-sponsor.

  Terrific door prizes capped the evening.

  We mix again

Thursday, Nov. 17

.

 Chamber Silver partner Northwest Healthcare has opened the QuickMed Urgent Care at Tangerine and Thornydale roads.

  QuickMed is a walk-in health care facility open

Monday

-Saturday,

8 a.m.-7 p.m.

Offered services include primary care, urgent care, physicals, lab services, X-ray, sprains, strains and broken bones, abrasions, cuts and burns, colds and flu, asthma and allergies, and more.

Save a date:

Jan. 10, 2017

On the second

Tuesday

of

2017

, your Chamber presents

David Aaker

, an internationally recognized motivational speaker and customer service trainer who will amaze and excite your entire staff.

  "I've taken classes from David at U.S. Chamber Institute for 4 years, and he's one of the most dynamic, mind-opening people you'll ever meet," said Chamber President / CEO Dave Perry. "Your people will perform at a higher level after hearing David speak."

  We'll present two identical sessions, one in the morning, one in the afternoon, in

Oro

Valley

. Sponsorships are available. Contact

Dave

or

Alex

at

297-2191

.

Project Grad has big start 

  Gifts approaching

$40,000

were announced Friday morning, when the 1

4th annual Project Graduation Business Breakfast

was hosted by Chamber Gold partner the

Hilton Tucson El Conquistador Golf & Tennis Resort

and

Oro

Valley

Police Chief Danny Sharp

.

  Sharp, Superintendent Patrick Nelson

, students

Tais Morga Cervantes

of

Amphi High School

,

Faith Trejo

of

Canyon del

Oro

, and

Danny Fapp

of

Ironwood Ridge

, and

Oro

Valley

Cup Golf Tournament chair Jim Miller

addressed the crowd.

  The day's featured speaker was University of Arizona professor Lehman Benson III, who told some 180students and guests about the power and importance of brand.

  Recognized past premier sponsors of Project Graduation are Comcast, The Hilton, the Jim Click Automotive Team, The Kai Foundation and the Pima County Attorney's Office.

  Gifts announced Friday come from the

Oro

Valley

Optimist Club, Chamber member

Oro

Valley

Rotary

, Pima County Attorney Barbara Lawall, and Pima County Sheriff Chris Nanos. Both LaWall and Nanos pledged

$15,000

to

Project Graduation

, which puts on drug- and alcohol-free graduation parties for seniors at the 3 district high schools.

  The 14

th

annual

Oro

Valley

Cup golf tournament is

Friday, Feb. 3

, at the

Oro

Valley

Community Center's El Conquistador golf courses

, 10555 N. La Canada. The tournament raised

$36,000

for the parties a year ago. For information, call

Jim Miller

at

520-400-3498

, or e-mail  

ovcup@yahoo.com

.

Chiles, Chocolate & Day of The

Dead Festival Sat., Tohono Chul

 Chamber member Tohono Chul pays homage to the cult of the fiery chile, decadent chocolate, and Día de los Muertos with its annual

Chiles, Chocolate, & Day of the Dead Festival this

Saturday, Oct. 29.

   Throughout the gardens, vendors feature Day of the Dead-inspired artwork, chile roasting, culinary demonstrations, food and wine tastings, live entertainment, free Día de los Muertos-themed face painting, children's activities, and more.

   Experience the enduring tradition of the borderlands from

9 a.m. to 4 p.m.

Saturday.

Tickets to the festivities are

$15,

with

free admission

for

children under the age of 12.  

Ticket holders are encouraged bring a token of remembrance for their departed to leave on the Community Altar. Join Tohono Chul for a celebration filled with joy, tradition, honor, and culture.

Bayada's Mims win chili title

  Alison Mims, a clinical liaison with Chamber member

Alison Mims of Bayada Home Health Care shows off her first-place trophy after last Friday's chili cook-off at Copper Health

Oro

Valley

. Chamber President / CEO Dave Perry was 1 of the judges. He loved all the entries.

Bayada Home Health Care, knows her way around the kitchen, too.

  Alison and her colleague,

community liaison Chad McGinty

, entered the prize-winning chili in the first

Copper Health

Oro

Valley

chili cook-off

, held last Friday at the Rancho Vistoso business.

  Five chilis were judged by Golder Ranch Fire District firefighters, Northwest Healthcare's director of professional outreach Andy Shanks and your Chamber's president / CEO, Dave Perry, who said all the entries were delicious.

  Sheila Schierling,

a kitchen staff member at Copper Health

Oro

Valley

, had the 2nd-place batch.

Deedee Lipphardt, executive director

, cooked the 3

rd

-place chili, and she had homemade cornbread, too.
Greater

Oro

Valley

Chamber of Commerce

p:

520.297.2191

7435 N. Oracle Road, #107,

Oro

Valley

, AZ 85704

www.orovalleychamber.comOur Mission Maximizing Greater

Oro

Valley

's unmatched assets.